Postet av Romerike Ultraløperklubb den 30. Okt 2023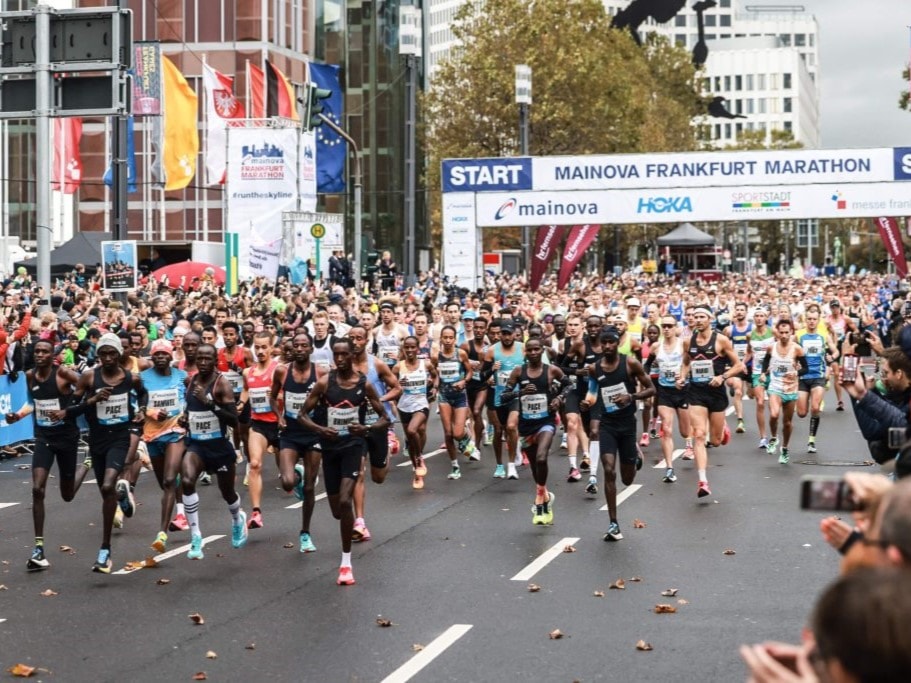 Scott Kerrison (46) løp inn til ny soleklar pers i Frankfurt Marathon lørdag 28.10. Med tiden 3:13:39 ble han nummer 1523 av 7564 fullførende herreløpere.
Splitt-tidene var 1:35:50 og 1:37:40 på de to halvdelene av løpet.
Ny pers med over 15 min (forrige pers var 7 år gammel)
I facebookinnlegget nedenfor skiver han bl.a.:
- 4800 km løpt hittil i år.
- Trening hjelper!
- Å flytte til Norge fra Australia (2018) har tydeligvis ikke vært noen reell hindring for å løpe.
- Blir definitivt eldre, men kanskje ikke gammel ennå.
Kondis.no: 196 norske deltakere fullførte i Frankfurt Marathon
Kondis.no: Buzunesh Gudeta og Brimin Misoi vant Frankfurt Marathon
Vi finner ingen fra klubben i oversikten over norske løpere.
ved søk på "Romerike" fant vi bare Scott som jo er registrert som australier.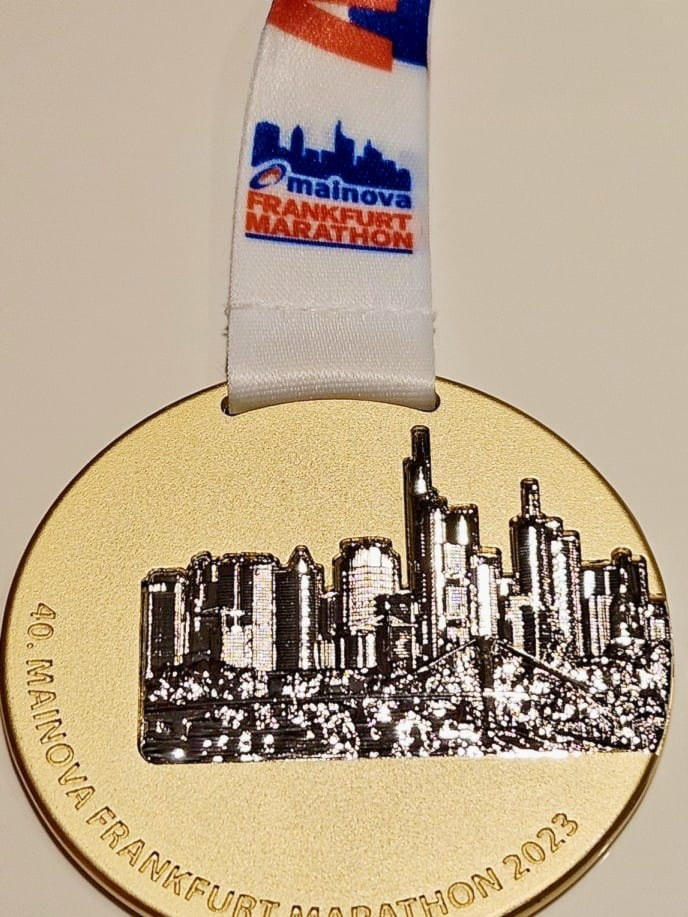 Scott skriver på facebook:
What a difference 27 years makes - not that this should really be any sort of surprise.
When I ran my first marathon in 1996, I remember getting to the 30km point and immediately thinking that I still had basically as far to go as I had ever run before (having raced 14km the week before). At that point, the wheels unsurprisingly fell off, and I only recovered with 2km to go when I knew I was going to get to the finish line.
Passing 30km today, after having ditched the pacers a
couple of kilometres earlier, the internal dialogue was that I would now scarcely get out of bed for such a short run, with just 12km to go!
As is often the case, I've had my doubts how this race would go over the past 2 weeks. Yes, I'd done pretty much every training session that was scheduled in the lead-in. But on reflection, I haven't had too many longer runs with a higher, continuous pace and the numbers from the past week of largely 5km runs have been nothing to boast about.
Regardless, I chose to trust in the process, and positioned myself behind the pacers targeting a 3:14 finish time from the start. Fortunately, I felt fairly comfortable at that pace, and my heart rate was generally somewhere around 140, which has been around the upper end of my tempo and fartlek runs. And while I found myself falling back at each drink station, I didn't feel too troubled in making my way back to that group.
The thing that I have not missed with road running is that it is actually a bit of a contact sport, as everyone dives for the drinks or food at every table (and then perhaps even worse, rushes to catch back up to the pacers). Not that there is any malice involved, and to be fair, there were plenty of "sorries" exchanged by the runners.
The jostling for space actually got better after I ran off from the pacers, so I would say that was the cause of some of the elbows and near-trips. Although after 30km, the ranks do also start to thin out, and more and more people had to resort to walking or even stopping to stretch out fatiguing and cramping muscles. I did start to feel the onset of some potential cramping on the inside of both thighs towards the end as I tried to pick up the pace (whether I did go faster is uncertain, but I was certainly trying harder!), I'm happy to say that the closest to walking that I came was having to slow down to get drinks.
I was more interested in my net time here than the gun time (it looks like it was well over a minute before I got to the timing mat at the start), so didn't start my watch until I really started. And I was happy to see that even the pacers were running slightly ahead of their target time, so I was well ahead and feeling comfortable.
From a running perspective, there wasn't too much else to report on the rest of the kilometres. The temperature was about as good as you could wish for, at about 13 degrees. Although rain was forecast, so I ended up with a woollen t-shirt under my
Romerike Ultraløperklubb
t-shirt and short tights under my running shorts. The road was already a bit slippery from some rain the previous days and we also got a little bit of rain underway, although not enough to really complain about - it's actually been raining more since I finished, so the other runners still out there are having to deal with the worst of the weather. And despite the weather, there was lots of enthusiastic support from the locals along the route, which always makes it a little more enjoyable and festive.
As I came into the finish (which is quite an affair - running indoors into the festival hall along the red carpet), 3:15 was not too far away on the clock in the distance. Try as I might, it seems I just missed breaking 3:15, with 3:15:01 on the unofficial results for the gun time. That might have been slightly disappointing (the somewhat outrageous goal I set myself at the start of the year was 3:15), but my real joy is the unofficial 3:13:39 net time. I might even admit to some tears as I realised I had achieved that, but the official report will say it was sweat and rain.
I've now run over 4,800km so far this year and almost 5,500km for the past 12 months. Clearly, moving to Norway from Australia has been no real impediment to running. And if there is one nearly immutable truth in running, it is that training helps.
The highlights so far this year have been:
1. A first ever track run over 50km (no surprises that this was a personal best for the distance, when all previous 50km runs have been on trails).
2. Finally getting to the finish line at the Lofoten Ultra-Trail 100 miles.
3. A huge personal best in Frankfurt in the marathon, cutting over 15 minutes from my previous best from fully 7 years ago.
That almost closes out my running year, with just the delayed trail run in Cape Town to return to. But however that run turns out, this has definitely been amongst my best running years ever, in what I believe marks the 30th year of my running "career". And 30 years in itself is surprising, for someone who whilst having always enjoyed sport, largely hated running as a child.
What will 2024 bring? Planning is under way without revealing too much yet.
Definitely getting older, but perhaps not yet old.
Keep on running.
---
Kommentarer
Logg inn for å skrive en kommentar.